Ori Gallery is pleased to present our inaugural art exhibition Elements of Reclamation.
Elements, considers the work of five black artists (Lisa Jarrett, sidony o'neal, Intisar Abioto, Melanie Stevens and Maya Vivas) coming together to challenge ideas of homogeny and create a breeding ground for reclamation. Reproducing what once was and revealing in, what is, full and pregnant with narratives ripe in complexity, joyousness, the playful, the nonsensical, the bothered and unbothered ways of being. These elements of reclamation expand beyond the single unit of body and ideas of possession. It encompasses place, culture, community, past, present and future. It is a coming together of a body of bodies conscious of their context. It is a body thinking of itself.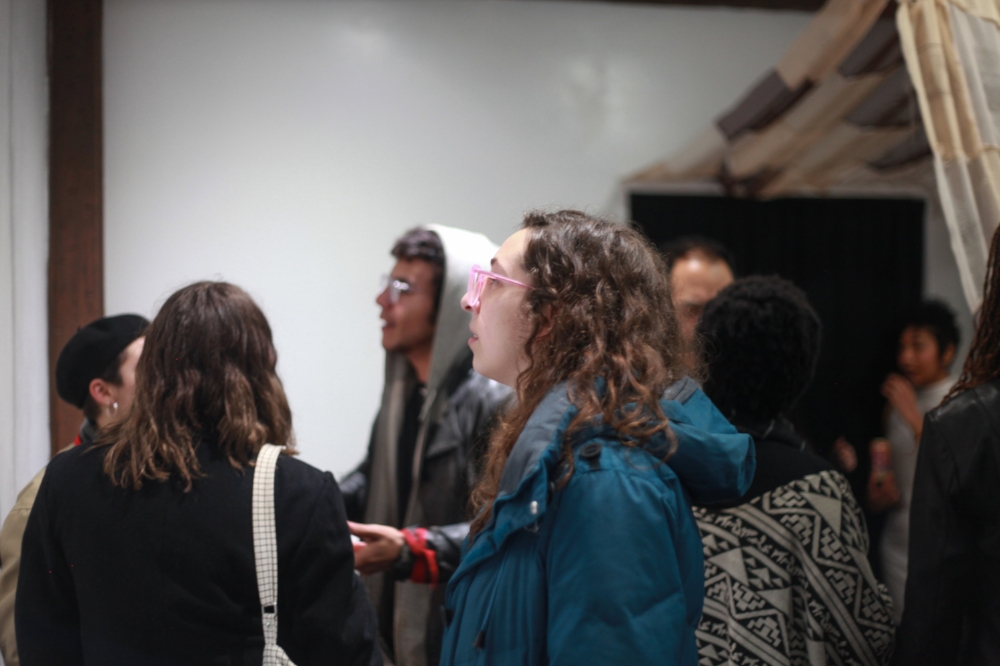 Melanie Stevens is an artist, illustrator, and writer. She is the creator of the graphic novel, Black Picket Fence, and the co-founder, editor, and an instructor of Miss Anthology, an organization that supports and publishes racially and economically diverse young comic artists who identify as female or genderqueer. She is also the co-curator of Nat Turner Project, a migratory, radical gallery space that grants artists of color the freedom to create or express their own language within and without the parameters of racial commodification or designation. She received her Bachelor of Arts degree for Political Science from Yale University and her Master's of Fine Arts degree for Visual Studies at Pacific Northwest College of Art.
Lisa Jarrett is an artist and educator. She is Assistant Professor of Community and Context Arts at Portland State University. Her intersectional practice considers the politics of difference within a variety of settings including: schools, landscapes, fictions, racial imaginaries, studios, communities, museums, galleries, walls, mountains, mirrors, floors, rivers, and lenses. She exists and makes socially engaged work within the African Diaspora. She recently discovered that her primary medium is questions.
Maya Vivas is a ceramic sculptor and graphic designer. Their ceramic sculptures have been featured in an array of galleries throughout Portland, Los Angeles and New Zealand, including venues in association with NCECA (The National Council on Education for the Ceramic Arts). In addition to being an active member at Radius Community Art Studio, they are currently Co-Director of ORI Gallery. Whose mission is to redefine "the white cube" through amplifying the voices of Queer and Trans Artists of color, community organizing and mobilization through the arts.
Intisar Abioto is a dancer, photographer, and writer originally from Memphis, TN. With a research focus on the African Diaspora, her unique form of story inquiry as a way of life has taken her from Mississippi to Berlin to Djibouti, seeking the multifarious presence of people within the diaspora. She's the creator of The Black Portlanders, a photo essay and exploratory blog imaging people of African descent in Portland, OR. This led to research into Black life around Oregon as photographer for the Urban League of Portland's State of Black Oregon 2015. She released her first publication, Black Portlands, in 2016.
I work experimentally across sculpture, performance, text, and sound composition—drawing conceptually on theories of blackness, abstraction, waste studies, the performance of refusal, translation/untranslatability, automata, material logic, queerness, and personal/archival technologies to consider borders, surfaces, heaps. What new modes of seeking might arise if we decenter our hope for a future based on arrival—on terminal location, fixed topography, stillness? I attempt to embrace a feeling that (s)lack, fugitively, and object-hood might have always been more valuable markers of existance.
sidony o'neal (b. 1988) was born and raised in South Sacramento, CA.