Works by Alisha Ware, Avonlea Raschdorf, Celestina Nunez, Christian Orellana, Elena Ali, Hobbs Waters, Julia Martinez, Paola De La Cruz, Ryo Bangs, Sophia Schultz, & TJ Brown

Ori Gallery is pleased to announce: Emergent. This exhibition features the work of eleven young queer/trans/artists of color who are taking their place in wider conversations of the art world. Emergent will facilitate and continue the dialogue in what it means for our youth to cultivate an artistic practice and share their opinions, ideas, dreams & talents.
Artist Statement
I find inspiration in the power and subtly femininity possesses. It exists despite everything that has been thrown at it. This piece is a representation of personal and media fueled ideals emerging as an unfamiliar self portrait. I see artists in their work often, intentional or not, and this simply embodies me as a person and artist. I've painted this work using acrylic, the laborious task of molding acrylic into all the things my mind and hand can create is an important aspect of the process. It helps blur the line between art and the artist.
Bio
Alisha Ware is a Portland, OR based painter and digital artist. She has been creating work for 6 years. In her work, she enjoys expressing and molding the ideals of beauty, gender, sexuality, and race. She gravitates toward acrylics with pastels, bold accent colors, and earth based palettes. Currently, Alisha is working towards her Associates Degree at Portland Community College and is the Artist in Resident at the Queer Resource Center on campus. Alisha is currently beginning to obtain experience in art curation; preparating for a show at North View Gallery and putting together a gallery space in the center for queer and trans student artists.
Artist Statement
I became infatuated with the relation to space and the cleanliness of form Japanese porcelain wares have. The pieces have a sense of care, symmetry, and the structure of the forms evokes thoughts of architecture. I wanted to marry this influence with internationally common household vessels; most notably the vase, the bowl, and teawares. The work presented is a study; I wanted to see how I could push my own perceptions of symmetrical form and line. Then through my treatments of glazing I sought out to adduce flux and life. With specialized attention to each object dismisses the ideology of mass production while celebrating the grandeur in the mundane. I seek to create something evocative. Functionality is not the main objective while throwing; shape is the central focus. These works are high fired in either a reduction, oxidation, or wood kiln. Referencing antiquated Japanese celadon and tenmoku glazes, I contemporizes these methods by over-glazing using a micro-crystalline substance, creating drips and using a more pastel celadon.
Bio
Avonlea Raschdorf is a craftsperson and ceramic artist residing in Portland, Oregon. Throughout the six years Raschdorf has been working with clay he has taken on many roles ranging from: ceramic lab technician, apprentice, artist assistant, and gallery preparator. He is influenced by themes relating to identity, the urban landscape, and unique forms. Raschdorf aims to connect relatable vessel forms with life's complexities, and his own ideologies about how he perceives the world. His work strives to bring in three key design elements: color, space and its relationship to the work, and how line appears within his work. Raschdorf has shown in an variety of galleries in and around the Portland area; including exhibitions with the National Council on Education for the Ceramic Arts (NCECA).
Artist Statement
Celestina Nunez's educational background has made her curious about art as activist practice. Connecting global issues to local communities, she aspires to create a body of work that disrupts complacency of dominant perspectives. Her current projects focus on the growth of U.S. immigrant detention centers and the people they imprison. By juxtaposing the humanity of her subjects with the inhumane imprisonment that face, she aims to expose the true nature of these institutions.
Bio
Celestina Nunez is a 23 year old self-taught artist that primarily works with acrylics, oils, and pen. Her work with non-profit organizations serving immigrant communities in Portland has played a vital role in shaping her perspective. Raised in Salem, Oregon, she graduated from PSU with degrees in both International Studies and Women's Studies, and has since made Portland her home. She has been drawn to create as a method to express queerness and Latinx identity in a dominantly white community.
Artist Statement
The work displayed here works to both empower people of color as well as call attention the glaringly obvious white washing of influential figures throughout history (in particular Jesus Christ). "Jesus Was Brown" works to fight against this white washing and reclaim the powerful religious figure as a member of communities of color rather than privileged white communities. "A Mutt is a Beautiful Dog" functions as an argument in favor of interracial relationships, platonic, romantic, and otherwise. In this way it hopes to fight against racism, romantic segregation, and call attention to the changing makeup of the United States as well as frame it in a positive light; a hopeful and happy view of our future.
Bio
Christian Orellana Bauer is an artist raised, and based in Portland, OR. As a mixed race person his work often hopes to call attention to the nuances and complexities surrounding discussions about race as well as push these conversations further. Pulling from his own experience as a person of color in a mostly white city has heavily influenced his work. Themes in his pieces also often include gender, mental health, the impending doom of our environment, the exclusivity of the fine art community, as well as art for arts sake. He works in a variety of mediums including painting, printmaking, sculpture, film, photography, music, collage, installation, and more.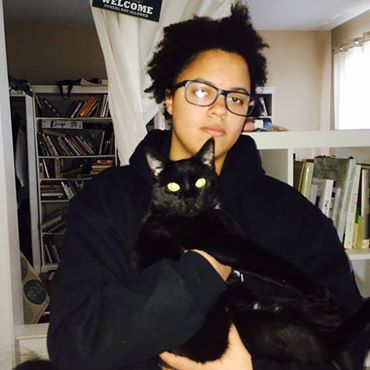 Artist Statement
My art takes a critical, yet whimsical look at the works that played an early influence in my creative pursuits. It quite often takes on the idea of "high fantasy" and makes it less white and less cishet, offering, I hope, alternative narratives and looks for young and old minds alike to play with and explore. The portrait that is presented today is for a particular project that I have been playing with in my head for years and only recently have I developed the skills to accurately represent it to the outside world.
Bio
(elena) Ali (they/them/theirs) was born in West Philadelphia, but spent the majority of their formative years in New York City reading books about worlds they did not live in, while commuting three hours a day to get to school. They are currently a rising Junior at Reed College, getting a B.A. in chemistry, while working as an Events Coordinator for the Reed Multicultural Resource Center and as one of two Training Supervisors for the Reed Research Reactor. They have, in the past, worked as a graphic and web designer and some of their work can be found at http://people.reed.edu/~mcknighe/.
Eleven year old Hobbs is an exceptional dancer as well as a cellist, and artist. He has a t-shirt line which he sell through his online store WWW.CITYTROLL.COM to help fund his dance education. Hobbs primarily dances Ballet, but he also does Contemporary, Hip-hop, Modern, and Jazz. This summer he will be attending Nutmeg Ballet Conservatory and Nashville Ballet. Both programs he received full merit scholarships. Hobbs is a showing artist, in the past he has mainly focused on a variety of pen and ink animals. Now he has moved on to working on abstract paintings, each painting makes a political statement. All his paintings correspond with social justice issues.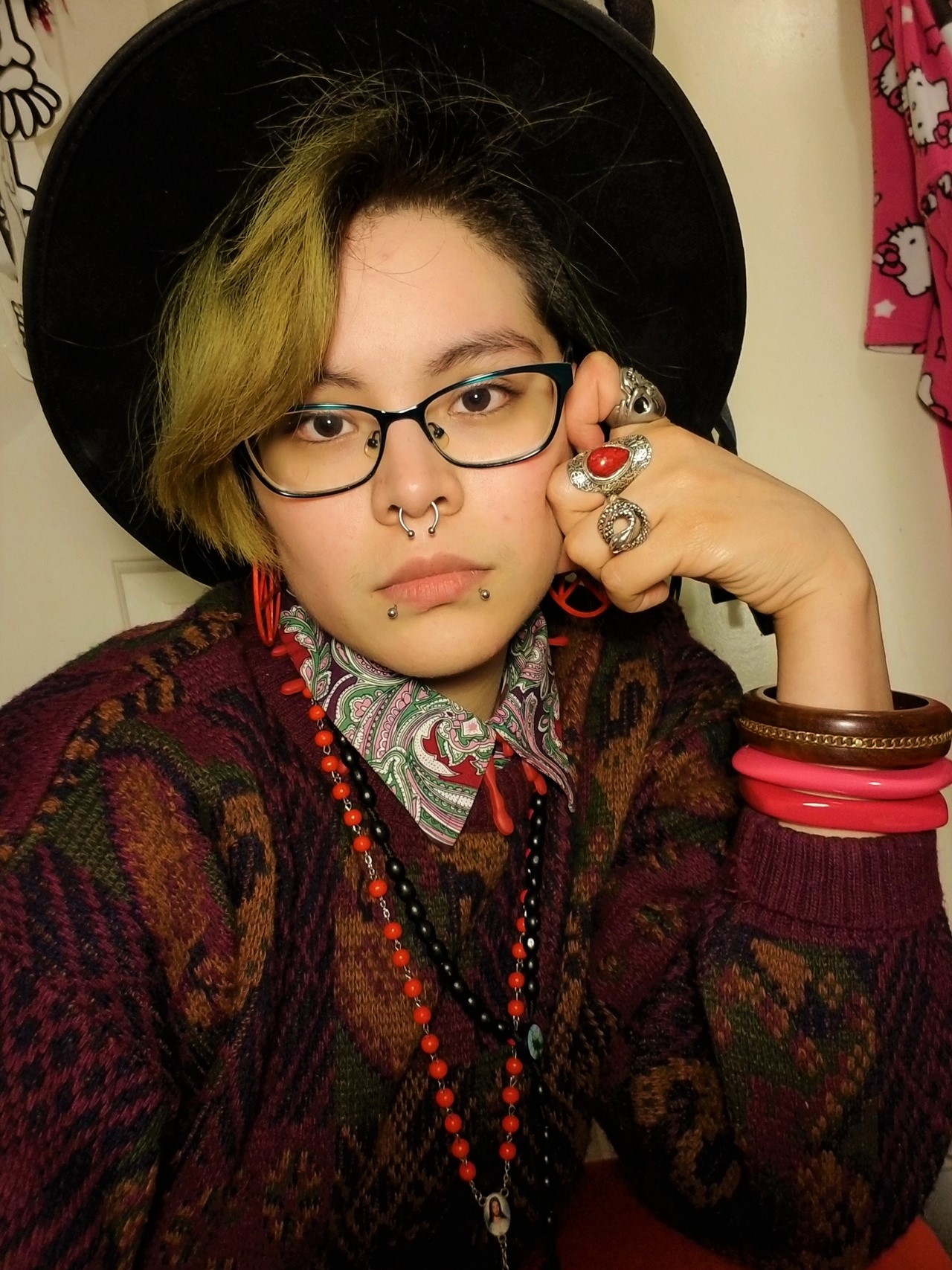 Artist Statement
Everyone, at some point within their lives, was a fairly impressionable child. Although, despite being repeatedly told numerous times that specific aspects of your identity (such as gender, sexuality, and beliefs) were predetermined for you I always thought otherwise and continued to question this enforced behavior. My earliest memories primarily revolved around this desire for the defined self-image as an attempt to understand myself, as well as this inherent yet emotive vulnerability that craves general belonging. Facing personal growth over the years allowed me to acknowledge said childlike sense of curiosity/questioning and as an artist learned how to project those considerations within my work as a prominent source of subject matter. In both Quiero Destrozar Julietta and Reach Out and Touch Faith (Personal Jesus) I primarily work with miscellaneous items and their formal associations to only distort and alter their assigned meanings through influences of sexuality, religious iconography, and queer politics. Through images, fonts, text, textiles, materials that are typically considered 'craft' rather than 'fine art', I manipulate in order to not only convey a message about a queer person's upbringing but a portrayal of universal experiences within the queer community of coming to terms with your own labels and identity.
Bio
As a cross-disciplinary artist, Julia Martinez surrounds themselves with a melancholic understanding of curiosity that continues to encourage them to explore subject matter through unconventional means of expression. Their emphasis on maintaining the raw essence of the mediums they deal with, such as mixed media, painting, and ceramics, correlates to incongruous influences as well as a personal sense of identity through texture, imagery and above all the essential use of Iconography. Julia's works have been displayed in numerous exhibitions including Whittier High School's Student Art Show and Western Oregon University's Juried Student Art Show several years in a row. Julia is an aspiring art student who recently earned a Bachelor of Art in 2017 and is currently enrolled in Western Oregon University's Bachelors of Fine Arts program with a ceramics concentration.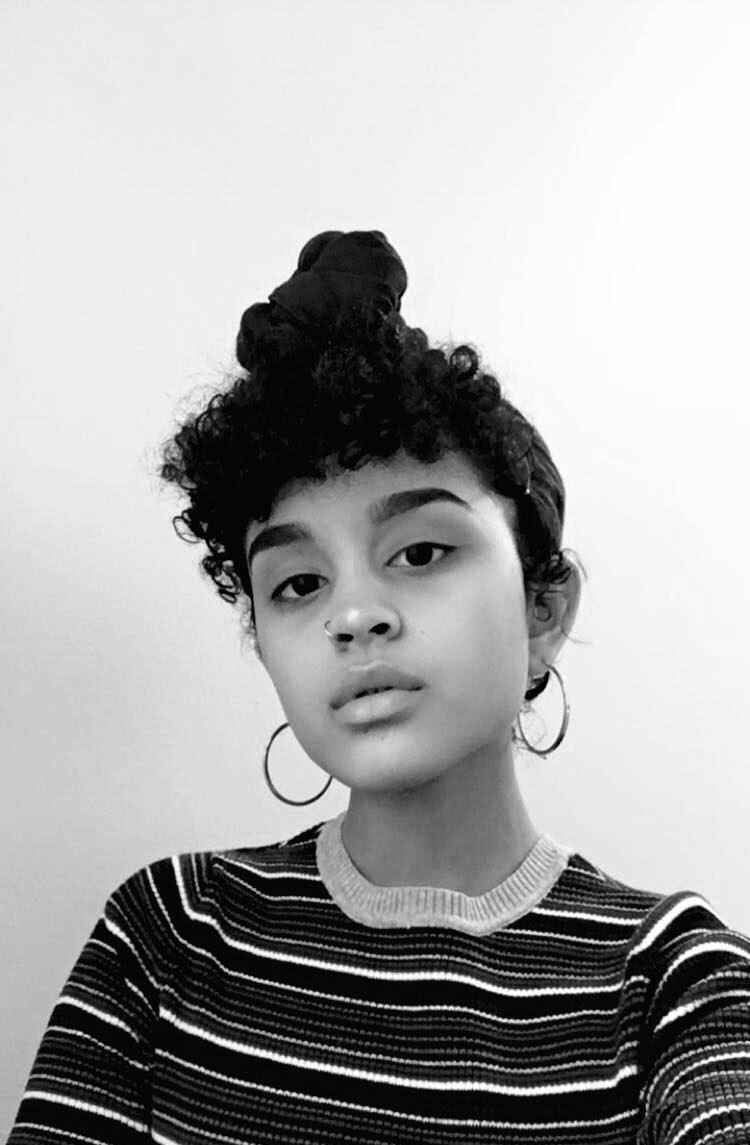 Artist Statement
The lack of female representation within the art world is undeniably insufficient; representation of female artist of color is even less. For this, Women of Color in the Arts is a series portraits that pays tribute to the women of color who have used their art to awake conversations and create unapologetic statements. The series uses paper cut and layering techniques to fabricate a collection of portraits, each unique, as they each strive to capture the individuality of the artist portrayed.
Bio
Paola De La Cruz is a Dominican American illustrator currently working on her Bachelors of Fine Arts degree. Being raised in the Dominican Republic, Paola was exposed to beautiful landscapes and a vivid art culture, as well as some darker themes of interpersonal and individual oppression. Moving to Boston, Paola was exposed to a more perceptible culture of injustice. Her work incorporates both retail and found materials; in inspiration of collage and quilting. Her work ranges from conceptual to portraiture touching upon themes anywhere from social justice, coming of age and fantasy
Artist Statement
My art is all about identity; I want to convey my thoughts on gender and attraction though my portraits, using color theory and composition. I started drawing without a purpose in my art, and only through the process of coming out and ingraining myself in gay culture did I really figure out what I wanted my art to be about. But overall? I just want everyone to know I'm gay.
Bio
Ryo Bangs is a gay nonbinary boy from Portland. He works in both traditional and digital mediums, with a focus on digital painting. His art is influenced by his mixed cultural background, and his experience as a member of the LGBT+ community. Inspired by his love for color, he strives to depict self expression through playful portraiture. He has been involved in a few local shows through educational opportunities, and is currently studying apparel design.
Artist Statement
Tibabita en mi corazón belongs to a series of multimedia sculptures of the weight of inter-generational memory. Interweaving fading photos taken by the artist, their mother, a Colombian immigrant, and family photos, they are held up by what is lost and what remains.
Bio
Sophia Schultz Rocha (b.1994) is a non-binary Colombian-American artist, photographer, and filmmaker. Sophia was born and raised in Sarasota, Florida and received a B.A in Anthropology from New College of Florida in 2017. They now live in Oakland, California where they continue their multi-disciplinary practice with memory, trauma, and intimacy.
Artist Statement
(In reference to featured work "HB Fuck You") This is a poster I made 2 years ago in response to HB2 which was passed in North Carolina. HB2 is a bill that was a passed to enforce everyone to go to bathroom that correlate to their assigned gender at birth. I was appalled that this discriminatory bill was passed and made a poster basically just saying let us fucking pee in peace.
Bio
TJ Brown is a queer hispanic black student who currently studies at Wayfinding Academy. They have been a visual artist about 6 years. Most of their artwork is with acrylic paint but have been experimenting with other mediums. Some of their work touches on social issues and others are just things from their imagination. for more artwork, follow them on tjbrownart on instagram.